In mid December, my Mum, sister, her boyfriend and I flew to the Netherlands for a week, to visit my mother's side of the family. It was wonderful seeing my extended relatives, many of whom I hadn't visited in over ten years! After spending most of the week in small towns, we went to Amsterdam for the weekend before flying back to London for Christmas.
My sister's boyfriend is a highly talented bartender, who is incredibly passionate about his craft. The night we checked in, we were kind of tired but still wanted to make the most of the evening. He went to the concierge of the hotel and asked for his recommendations for some local bars, preferably some cosy speakeasies.
Tonight's History Lesson: What's the Hell's a Speakeasy Bar?
A speakeasy bar was an establishment that illegally sold alcohol during the American Prohibition era. They were in prominence during the 1920's-30's, but died out gradually. Nowadays they are tucked away bars that usually have a retro style, smaller than your average bar, and have high standards of service and quality. Sometimes they'll require inside knowledge to gain access, such as a password or just being pointed in the right direction.
After talking to the concierge, he received a list of several bars, and was on very good terms with the front desk. They offered to make some reservations to some highly exclusive bars on our behalf for the next few nights. It was one of the most amazing weekends I've ever experienced, and I thought I'd share this insider knowledge with you, dear reader!
Wynand Fockink (Jeneva Bar)
One thing we wanted to do while in Amsterdam was to visit a genuine jeneva bar. Jeneva (also called geneva, or Dutch gin) is flavoured from juniper berries and is the traditional and national liquor of the Netherlands, similar to how vodka is synonymous with Russia.
The bar was tucked away down a small side street, just off one of the busiest squares in town. There were lots of people outside, chatting and laughing, but we managed to make our way inside. It was a small room, with creaking floorboards, creamy wallpaper, and vintage posters for jeneva and old photographs of the bar's customers lined the walls. The wood of the bar was soaked with spilt alcohol from over the decades. Behind the bar were perhaps a hundred bottles of different variations of jeneva, so we were spoilt for choice. The bartender was very helpful in choosing a type we'd each like, as we had no idea where to start! The glasses were traditional Dutch ones, shaped like tulips, set on the bar, and filled to the brim (a Dutch tradition, to make sure the bartender doesn't cheat you!). As you can't pick up your glass without spilling it, you need to bend down and take a generous sip. We arrived just a few minutes after they set a broom across their front door, signalling their last sale for the evening. Talk about lucky!
While jeneva isn't my drink of choice, it was still good to try something different. One variant was aged in single malt whiskey barrels, whereas another was flavoured with violets and roses and tasted like cake! I'd recommend this place if you want a traditional Dutch drink, and if you're unsure of what to choose, ask the bartender what flavours you like and they'll be happy to suggest something to you!
The Butcher (Speakeasy Bar + Burger Shop)
This bar was a bit of a trek to get to, but a hidden gem once we got there. My sister's boyfriend received a message from the concierge, confirming his reservation and giving him a password. We arrived at a small burger shop with a taxidermy cow hanging in a glass window, the walls were covered in white tiles, with a glass screen between the kitchen and the booths. At the back was a silver fridge door with a small panel beside it. The smell of the burgers was mouth-watering, but we were determined to find the entrance.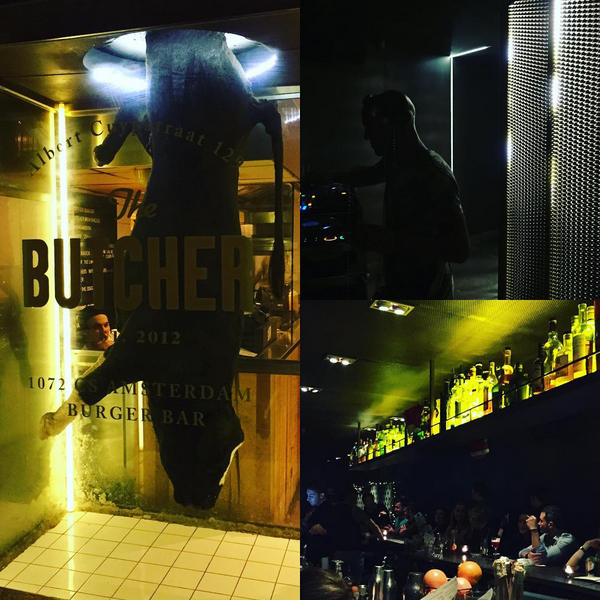 After speaking to one of the cooks, he gestured to the 'fridge' and told us what to do. After giving the password into the intercom, the door swung open and we were invited inside by a stylish woman in a black cocktail dress. She led us into a dark room with low, white lighting; after she took our coats and confirmed our reservation, we were then invited to enter the bar.
To be honest, the layout was like a fairly typical bar. A good DJ, some nice drinks and bar snacks, some low tables and bar stools (which was an island in the middle of a long, rectangular room). The cocktail I had was a blend of rosemary, citrus and whiskey, and the glass was smoked with burning rosemary leaves to heighten the flavour. It wasn't bad, but I've had better. The other drinkers were much louder and a little obnoxious, which did deter me from fully enjoying my time there.
The biggest draw to it was the interesting layout and the adventure of discovering it. But I think I would have had just as much fun eating a burger from the front of the store. I'd recommend checking it out if you want a trendier, modern bar, just be sure to book in advance or you may get turned away!
World Class Room (Speakeasy Bar)
Simply put, this is one of the best bar experiences I've ever had.
Again, the concierge at the hotel made a reservation for us and we set out early in the evening. It was a short walk from the hotel, and we arrived at a reasonably large restaurant/bar. The maître d' checked our reservation and went to speak to someone. A few seconds later, a sharply dressed, charismatic man named Martin led us up a flight of stairs to the kitchen. In the corner was a sliver fridge, and he typed in a few numbers on a keypad beside it before opening the door and leading us up a very narrow flight of stairs to the attic room/speakeasy bar.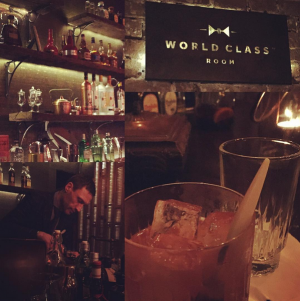 The room was lined with brick and an old map of the trading routes between Europe and America, and a few low tables with red velvet seats. Shelves were lined with expensive liquors, low lighting from Edison bulbs hanging from the ceiling, and an island bar in the middle of the room with a number of seats around it. The room had a limit of seventeen people, and our small group were the only ones there at the moment.
Martin was our private bartender for most of the evening, telling us about each of the cocktails on the menu (which was in hand-written calligraphy on aged paper) and mixing special drinks for us. Including the best old fashioned I've ever tasted (made with spiced single-malt whiskey, orange peel, maraschino liquor and served on ice). Martin told us about the history of the bar, his experience as a bartender and the creation of each of the cocktails we were drinking. He was part of a bigger network of award winning bartenders, and this was one of few bars in world designed in this speakeasy style and offering this level of quality in the craft of cocktail making.
It was an amazing night in one of the world's most prestigious bars, and I'll be certain to give Martin a call when I'm back in Amsterdam!
Excalibur (Rock and Roll Bar)
This was a stark contrast to the other bars we visited on our trip, but was still wonderful to check out. Like myself, my sister's boyfriend is a fan of heavy metal and rock music, and had heard that this was an awesome place to check out.
It was located along the canal that ran through the Red Light District (before you ask… yes, the streets are lined with peep shows, sex shops and bars. The only perverts are the boorish tourists who leer at the prostitutes through the windows, and the district as a whole doesn't feel all that uncomfortable to walk through. Hell, there were families walking with their kids past the ladies of the night). The bar was small and pulsed with red and orange light, decorated with motorbike parts, leather seats and car engines.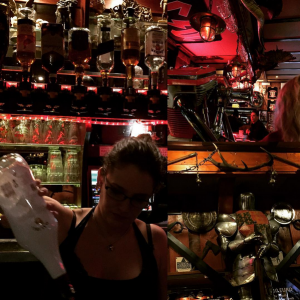 There was only about ten people there, so we got a seat right at the bar. I had a simple glass of Jack Daniels, but my sister and her boyfriend had some delicious, simple fruity cocktails. The bartender was very nice and we got chatting, she even gave us all a free round of shots. Not sure what was in it, but it was well balanced and was a great kick to the senses. The music was loud, the atmosphere was drenched in American motorbike charm, and after a few sips I almost forgot I was in the Netherlands. A good change of pace from the more elegant bars I'm more comfortable with. I'm typically used to blended cocktails or glasses of single malt, but sometimes what I really need is a mystery shot or a classic glass of Jack. This was a great little watering hole, and they had awesome taste in music.
Bar Oldenhof (Speakeasy Bar)
I wanted to save the best for last.
This was the first bar we visited in Amsterdam, and it was where we spent our last night. Only five minutes from our hotel, this little speakeasy wasn't as discreet as some of the others we visited, but instead hidden in plain sight. A yellow neon sign with 'BAR' on it, and a door with a black curtain was all you could see on the outside. We pressed the doorbell and a neatly dressed man greeted us, asked how many of us there was, and took our coats as we entered. It was a small room panelled in wood and dark green wallpaper, with a stag's skull above the fireplace, cosy armchairs and lounges, a small enclave where the bar was, and stairs that led to the bathroom and upper seating gallery. Around the upstairs walls were vintage photographs of celebrities smoking, such as Jack Nicholson, Eva Green, Sean Connery and Dita von Teese.
We were led upstairs and had a secluded corner to ourselves, and were welcomed as though we were old patrons (which by the end of our holiday, we practically were!) Some light refreshments were provided, and plenty of water, and we were left with our menus.
First Visit:
Their autumn cocktails were still available, so we ordered some of those. Including a wonderful penicillin, a 'summer harvest', a 'belle epoque' and a 'lion's share' cocktail. Each of which complimented the flavours and feelings of autumn perfectly. That night, we were told that in the next few days, the winter cocktail menu would be nearing completion, and that wonderful news made us all the more determined to return. We didn't stay too long, as we wanted to visit other bars that night, but we were determined to come back for another round, or three!
Second Visit:
We arrived at about seven in the evening, and didn't leave until eleven!
As we arrived, we were welcomed warmly and shown to our corner in the upstairs gallery, taking our preferred armchairs and settling in for the evening. Our first round was from the autumn menu, and mine was a very spicy chili cocktail. It was citrus, smoke and spice, but not overpowering until you got to the bottom of the glass. A wonderfully different cocktail and it blasted back the winter chills.
While the winter menu hadn't been perfected yet, we were invited for an early taste test and give feedback. We ended up trying all of the cocktails on the menu! Each one more amazing then the last. The ones I tried were the 'lucid dream', which was a delicately balanced, white rum based cocktail served with a slice of lemon peel.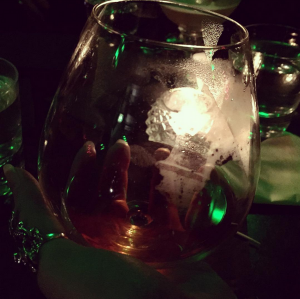 The last drink I had for the evening was one of the best I've ever had. It was a warm cocktail, served in a large brandy balloon, and carefully blended with amber liquors. You couldn't breathe in the smell too deeply, as it would fry your senses, but it melted across your palate perfectly. It tasted like liquid gold, drunk in front of a warm fireplace, wrapped in a fur blanket. I drank it for at least an hour, while enjoying the wonderful service of the two brothers who ran the bar. They and one of the other bartenders came back frequently for feedback about each cocktail, and while my sister's boyfriend could be more precise with his critique due to his experience, they all appreciated what we had to say.
If you're going to visit one bar in Amsterdam while you're visiting, go to Bar Oldenhof. The cocktails are sublime, the atmosphere is cosy and the service is welcoming and helpful.
I'm now back in London, and will do more stylish bar reviews as I come across them. I can't wait to go back to Amsterdam some day, and further explore the amazing nightlife and hidden secrets of this wonderful city.
Cheers, dear reader!
-SSQ