And there it is, another con behind me, another resounding success. It was great to be back in Texas where most of my good friends are, and to see all of my other good friends who travelled to be there as well. It was an adventure from Chicago to Dallas to San Antonio and back again, but that's not what I'm here to talk about. We're going to be talking about cosplay. This time around I chose two new characters and one familiar. The amount of compliments and photos taken of these guys definitely put them up on the "have to re-cosplay" tote board, so let's run down them day by day.
Friday: Day 1 - Negan from The Walking Dead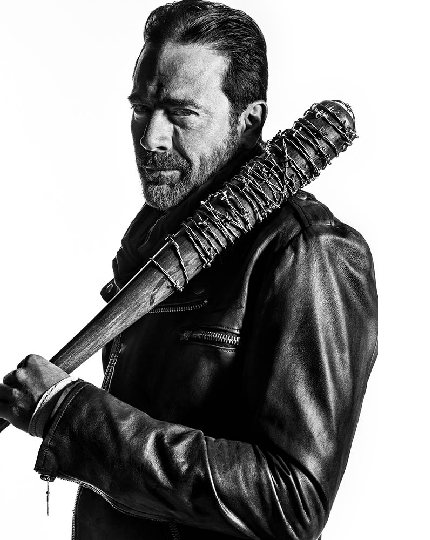 As I've said previously, I've never watch a single episode of The Walking Dead. But from my friends that do, and from some of the clips I've seen of his antics, I had to give it a shot. I was most worried about the facial hair, since I can't grow it out fully, and when I do, I end up looking like I'm French Kissing a Brillo Pad, so I grew my facial hair out as far as I could with it still being decent looking and simply used white and black makeup to do the rest of the work for me. I wasn't worried at all about my actual hair, since the hair wax I've used to spike my hair for Cid Highwind stood up pretty well, so I just used it to slick my hair back, then solidify it with black hair spray. Now, I didn't get that many picture taken as Negan, but I was THRILLED when I stumbled upon a couple of other Negans, one of whom I met earlier that say, and we had our own little Council of Negan going on.
Friday: Day 2 - Cid Highwind from Final Fantasy VII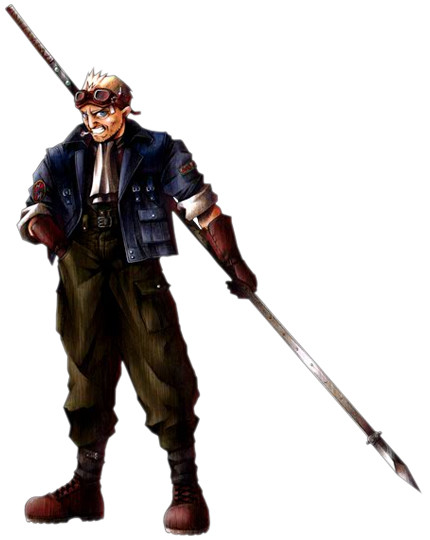 I debuted Cid in May for The Phoenix ComiCon and it was a success then. But with the prop ban, I wasn't able to fully reveal him. This time around, the spear and dynamite were in full force, and I got a lot of WOWs and AWESOMEs from picture takers and other cosplayers. Cid's going to be my go-to guy for cons, I know this. I've had a love for Final Fantasy ever since Terra and crew took out Kefka, but I wasn't fully able to attach myself to a character until Cid came along. It's fantastic playing ME, but I'm smoking again, and I get to swear all the time – what's NOT to love? On Day, there was a Final Fantasy shoot and we got the opportunity to hang out with other Final Fantasy fans and have several group pictures. Afterwards, we met up with WildMomo Photography and had an AMAZING photo shoot, albeit sweltering hot.
I don't to well in vinyl.
Friday: Day 3 - The Black Jester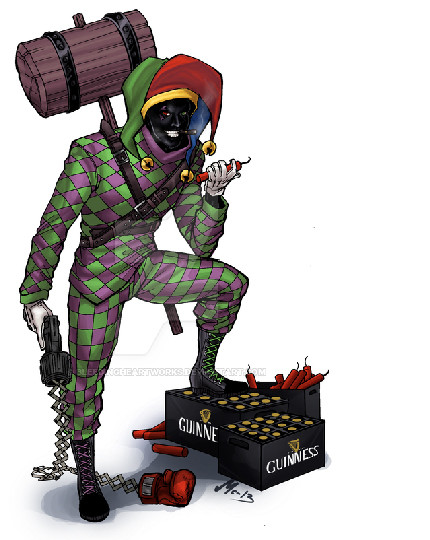 I want to make it very clear that I would not have been able to pull this cosplay off without the craftmanship of Mama Midnight. She spent her money and time to turn this online character into a fantastic reality and did such a astronomical job. So, from the bottom of my heart, a million thank yous, Mama.
Now that the sappy shit is over, let's talk about a cigar smoking jester. The hat and gloves I've had for a while. I recently purchased a new cigar prop that lights up when you touch the contacts at the one end. but he needed his, as Fatboy Slim put it, Weapon of Choice. The Giant Hammer. I now know that cosplay prop making is something I excel at, and I will continue to make props until I can't move my fingers anymore. It is such a fun and amazing process to see everything come together in the end, no matter how many tries it takes. And I only plan on taking my craft to higher and higher levels. Because everything can be improved. I will probably add some more detail to the wood grain of the hammer head. Try again with the smiley bombs. The Jester needs a full leather belt, shoulder strap/scabbard and holster plus there was no Boxing Glove Revolver, so I have to make that. And not only make it, but make it functional – so that the glove actually launches.
Its an ongoing process, and one that I love.
San Japan was an phenomenal experience, one that I hope to experience again someday. There was some drama, but it was quickly forgotten while I surrounded myself with friends and loved ones. I look forward to releasing progress on my next projects: Jesse McCree from Overwatch and Hellboy.