This Review is SPOILER FREE! Please DON'T POST SPOILERS in Comments!
Horror has always had close ties to romance. From Edgar Allan Poe's morbid declarations of undying love, to the modern sexualisation of classic monsters. In both genres, it's the fear of the unknown; placing your trust in someone that you may not fully understand, only to have their true intentions turn monstrous.
In honour of the month of love, and it's release on DVD and BluRay, tonight I shall be reviewing Guillermo del Toro's magnificent new film: Crimson Peak.
Plot

Characters

Atmosphere

Effects

Audience Retention
Summary
The Plot:
Edith Cushing (Mia Wasikowska) is an aspiring author living in late 1800's Buffalo, New York. Modern and headstrong, she stands out from her peers and is very close to her childhood friend Dr. Alan McMichael (Charlie Hunnam). However, she is quickly courted and soon weds the charming Sir Thomas Sharpe (Tom Hiddleston), and is whisked away to his family estate in England, the remote mansion, Allerdale Hall. Sharing their home is Thomas' sister, Lucille Sharpe (Jessica Chastain), a dark and mysterious beauty who holds the keys of the estate.
Able to commune with the dead since childhood, Edith encounters the terrifying spirits who lurk the halls of her new home. But as she begins to uncover the truth, is it already too late for her to turn back?
This is the best way I can summarise the plot without spoiling too much. While particular characters set up their roles fairly early in the film, what draws the audience in comes from wanting to see how they grow over the course of the story. You can tell a character is sinister, but you want to find out why they are the way they are.
In my description of the plot, you may have noticed that I discussed the relationships in the plot, and the horror aspects secondly. It has much more in common with novels like Jane Eyre and especially Rebecca, rather than films like The Others or The Haunting. I wanted to mention this in particular, as I've heard from some horror fans that they disliked the film, as they had the wrong expectations. They may have gone into Crimson Peak with the mind-set that it would be similar to del Toro's other horror-influenced films such as The Devil's Backbone, but in all interviews, del Toro has called this movie a gothic romance. I wanted to raise this point as I think the marketing (while aesthetically wonderful), emphasize the horror aspects over the romance. The true heart of the plot is a twisted love story, with the ghosts acting as breath-taking metaphors.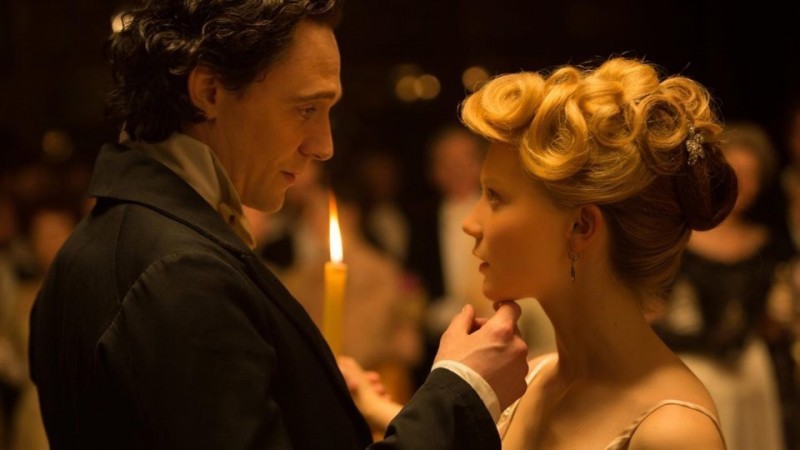 The Characters:
With many gothic stories, there are key roles that come into play: the curious ingénue, the dark and handsome stranger, the mysterious other woman, a house filled with secrets. Similar to character tropes in horror films, these characters allow you to build expectations, which del Toro toys with as the film progresses.
I may be biased (as a young, aspiring novelist who think Tom Hiddleston is gorgeous), but I found Edith highly engaging as a leading lady. She isn't a reactionary heroine, who waits for events to happen to her; Edith actively seeks out the truths of the house and her new family, even if her dark journey frightens her. She makes the best of a difficult, confusing situation, and as a modern woman she isn't the wilting wallflower so commonly seen in gothic stories. If you familiar with Wasikowska from other films like Alice in Wonderland, Jane Eyre or Stoker, you'll likely enjoy her performance here.
With the Sharpe siblings (Hiddleston and Chastain), they have an impressive presence throughout the film and their story is both tragic and macabre. If you read the film novelization (which is told from multiple perspectives) then you get much more out of them and makes their story all the more heart-breaking. But judging their characters solely from a film standpoint, they are extremely well crafted, and their roles are performed with such grace, they seem to effortlessly channel their characters.
The secondary characters are well performed, though don't shine as brightly as the main trio. Charlie Hunnam (Sons of Anarchy, Pacific Rim) plays Dr. Alan McMichael, and Jim Beaver (Supernatural) plays Edith's father. Both roles are designed to be the golden Americans in contrast to the dark, traditional English, and in that sense they are well crafted. Both performances are engaging, though Beaver is especially good as a firm, but loving father.
The key word for the actors in this film is chemistry. While watching this movie, I firmly believed that Edith loved her father and Thomas, that Lucille and Thomas were closely bonded, that Edith and Alan were childhood friends. The performances flow and feel genuine, and the entire cast feels balanced.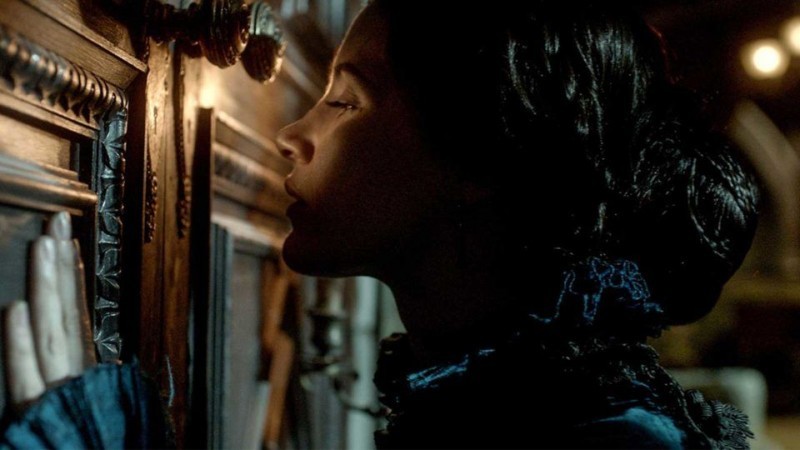 The Atmosphere:
If you're not a fan of any of the actors, I would still recommend seeing this film if you're a fan of well crafted, atmospheric film making.
Guillermo del Toro is a wonderful advocate of practical effects, and they are in abundance in this film. The entire mansion of Allerdale Hall was a practical set, and true to del Toro's style, he hid many little motifs around the mansion, particularly symbols of moths. If you watch the film multiple times, you can pick up many details about the conceptual design and costuming that makes you marvel at the amount of passion del Toro put into this film. If you're a fan of film, you already know how much of a difference practical effect makes when trying to create a sense of atmosphere, and this is especially important when it comes to horror movies.
The ghosts were designed by del Toro, and played by his long-time collaborator, the extremely talented Doug Jones. All the ghosts were practical effects, enhanced with CGI to make them appear physically intangible or to remove parts of the anatomy. They aren't overused, as Doug Jones steals the show every time on stage, but when the ghosts do appear, they are a truly unsettling presence.
In Conclusion…
Crimson Peak is a breathtakingly beautiful film, with a wonderfully twisted love story and some of the best production design I've ever seen. If you're a fan of well crafted gothic films, haunting visuals and tales of beautiful, broken souls searching for warmth, I can't recommend this movie enough.
While Pan's Labyrinth is (in my opinion) Guillermo del Toro's masterpiece, Crimson Peak is one of his finest films yet, and a must see if you're a fan of his work. It's absolutely one of my new favourite movies.
-SSQ